1. YT #1:
Tp72-MH over B72-OC Range (image above)
This range (the largest piece shown above in our original showroom)  is the very first piece of Kitchen Workstation Furniture ever built.  It has been used for the initial and subsequent U.L. testing procedures and therefore is not in pristine shape.  But because it is so significant in the development of YesterTec, it is for sale for $100,000.00.  Obviously we hope to hold onto it for a long time!!
.
2.  YT#136
This PR36-FP Refrigerator Surround includes a front facing 12″ wide full height pantry on the left and a side opening (bi-fold door panel) with 12″ deep shelving. The opening will fit a 36″ wide  x 68″ high refrigerator.  Above the refrigerator is a top hinged door and a storage area behind the door. The shelf for this area was never made, but we would make it and send it with the piece.
This piece is made of cherry with a natural finish, and it has bead board sides and front panels and a black painted crown. It has been in service for over 18 years, but is still in great shape though there are  minor scratches on the some of the wood pieces. It is in three easy to assemble pieces. Its dimensions are 64″ wide by 24″ deep by 84″ high.
New, this piece can be built for $6129.00.  Its sale price in AS IS condition is $1500, plus shipping. The 30″ wide refrigerator shown and all other contents are not included.
The 6 pull out trays are shown to the left, the 5 shelves are shown on the right.
Below is an image when this  piece was part of a 2001 KBIS display.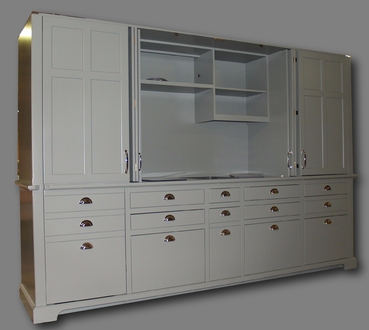 YT #406 SOLD!
We built this Slate Grey painted Master kitchen ( UKSZ-CSR-MH) over 4 years ago and have been storing it for its owner since then. But due to a fire and downsizing (due to cost) the replacement home, the owner no longer can use it, so she is releasing it for immediate sale.The image below, taken just before we wrapped it up for storage (and shown without its cornice and installed appliances) shows the center work area opened with its pocket doors stored out of the way.   The center area is flanked by a Liebherr 9.3 CF full height refrigerator/freezer/icemaker on the left and a matching full height pantry on the right.
Its dimensions are: 119″ wide x  84 1/2″ Tall x 27″ deep.
This new, unused piece is WAS for sale for $18,000.00 with appliances,not including shipping, faucet, sink strainer and installation. This is a real deal, as a comparable one at today's prices is $23,600.00.
The mini-kitchen includes and safely conceals a GE Advantium Black OTR  oven and a Ramblewood 2 burner 240V induction cooktop and an Elkay 14″ x 18″ under mounted sink behind the bifold pocket doors. A  Fisher and Paykel Single Dish Drawer is below the cooktop.
The image above shows the piece in the factory with its cornice attached and all of the doors closed. The color is more true in the top image.
For full details concerning any of the workstations on sale, please contact us.