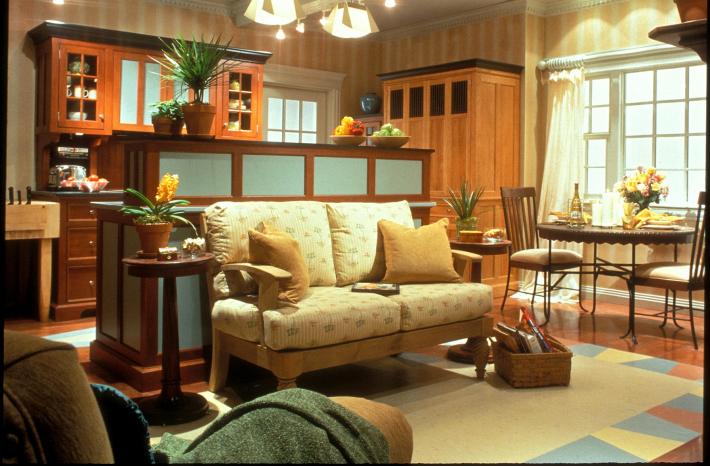 Why is Kitchen Workstation Furniture so different from built-in cabinets? Discover why Kitchen Workstations by YesterTec Kitchen Works are a new alternative to consider for your kitchen project.
YesterTec makes specialized Kitchen Workstation Furniture (separate pieces of furniture instead of built-in cabinets) for kitchens that need to be more…and less than just kitchens. They are designed to integrate the look and functions of our social spaces such as family rooms, great rooms, libraries, study areas into the kitchen. Our multi-functional kitchens which are the center of our homes do not have to have the look of a laboratory anymore. The Key? Kitchen Workstations allow the colors and textures of the walls and floor to meander between each piece. Its that Simple! So please keep this in mind as you read this article and others on our website to discover how the Kitchen Workstation Furniture concept really works.
Kitchen Workstations are not cabinets, they are furniture for the kitchen; tough, task oriented furniture. It doesn't have the furniture 'look' because it is genuine furniture, not cabinets trying to be furniture. The popular terms 'unfitted furniture' and ' unfitted furniture-look' only describe cabinetry that has been adorned with furniture-like features. Above, these three work stations use only 9 x 12 feet of space to create a complete, super-efficient kitchen in this open plan, loft style great room. Note the various colors that the separate pieces allow.
You will see many images that do not show exposed ovens. That is because YesterTec's U.L. Listed technology allows the 'hot' appliances to be concealed when they are not being used. Though most cabinet manufacturers have been concealing refrigerators and dishwashers for decades, YesterTec is still the only manufacturer that has a U.L. approval to conceal the 'hot' appliances.
Innovation is the Difference
YesterTec's Kitchen Work Station Furniture has been designed from the ground up as furniture, not as transformed cabinetry. Furniture in kitchens must be much more efficient than normal two foot deep cabinetry to compensate for the 'space' that is lost between each separate piece. YesterTec designs each piece so that efficiency is not sacrificed. YesterTec's task oriented workstations have deeper and sometimes additional counter tops within the 'reach zone' around cooktops and sinks. Taking cues from the commercial kitchen work stations found in restaurant kitchens, YesterTec's pieces are designed to maximize efficiency in a shorter horizontal space. This efficiency is why a few YesterTec pieces really can become an entire kitchen, and other 'furniture-look cabinetry simply cannot get the job done!
Deeper counter tops also produce deeper storage systems as well. Full-extension, 26″ deep (instead of 22″ deep) drawers and roll-out trays instead of fixed shelving are standard features that increase storage capacities. Full-height storage pantries and pantry/refrigerator pieces sometimes even have sides that open for more accessible storage. Above, the Hampton's Mahogany Armoire stores all the dry goods and conceals double ovens and a Subzero refrigerator as well.
Revolutionary furniture for kitchens required a Revolutionary Invention!
Period Design does not have to be compromised in the kitchen anymore, because YesterTec Workstations uncompromisingly conceal the modern technology from view. YesterTec's U.L. Listed Kitchen Workstation Furniture can completely and safely conceal standard, full sized ovens, microwaves, cooktops and dishwashers. This unique technology does not allow the more technical look of appliances to interfere with the 'timeless' character of the furniture and ultimately, the design character of the room.
Hey Mom, Where did you hide the Kitchen?
Concealing technology gives the Homeowner the best of two worlds.: A low tech, more comfortable feel to a room without giving up the conveniences of a modern kitchen. Finally, homeowners have the opportunity to choose what they want to see, instead of being told what they must see. The kitchen above and below features a Hampton's Cherry range that hides the oven and the over-the-range microwave. Which image do you you like better?
Subzero hides refrigerators, we hide all the other appliances!
YesterTec's appliance concealing technology is U.L Listed,  therefore YesterTec is the only company in the world that can safely conceal standard appliances so effectively.
Furniture instead of cabinetry. Why is it so visually appealing?
One of the key visual features is 'Balance'. Each piece has recognizable gravity, it sits on the floor, it never cantilevers from the wall. There is a definable base, a finishing cornice and finished sides to define each 3-dimensional piece. The pieces don't combine together, which allows the heights and depths of the units, the materials, the colors and the textures to be varied from one piece to the next. Cabinetry, that has no distinguishable boundaries or proportions, depends on the continuity of color and texture to achieve an overall 'balance' for the design. But this also can produce a bland, uninteresting composition as well. A 'Furnished Kitchen' can be more visually diverse than ANY standard kitchen you can imagine! Above, the large Old English Pine armoire conceals a Subzero refrigerator and has a matching pantry as well as side opening one can deep pantries. The Hampton's Cherry Range (against the wall conceals an oven and the over-the-range microwave. The Hampton's Cherry Island sink features a Storage Unit above the countertop that hides the 'messy' countertop from view. And the Deep Ocean Green painted Working Pantry/Wine Bar conceals all the small appliances and includes features such as a prep sink and a wine rack. Notice how the different colors and styles work together in this super efficient 4 piece kitchen!
Its Sculpture for the Kitchen!
Kitchens become more 3 dimensional in orientation because the eye moves in and out from each balanced 'piece' to the next, experiencing the varied depths of the voids between the units. The balanced, proportional design of each piece is comforting to the eye, and helps to make a collection of pieces easy to comprehend. Above, the Hampton's Cherry Island Sink with Grid style doors blends nicely with the Distressed Pine Subzero Refrigerator/Pantry that features bead board side doors that conceal a full height one can deep pantry.
To personalize your Kitchen, fill in the Spaces!
YesterTec kitchens are vertically oriented, creating a multitude of design opportunities for the spaces that are created between the pieces. Designers have more to work with than just the back-splash of the traditional horizontally oriented kitchen. The spaces between each YesterTec piece can accommodate collections of art, open shelving for display or utilitarian purposes, full height windows, specimen house plants, or even your favorite rocker! And remember, YesterTec's kitchen work stations are more efficient per lineal foot of length so as to compensate for the spaces between the units. The Old English Pine Work Table shown above has Shaker styled legs and a Granite counter top.
Natural Materials come back to the Kitchen!
YesterTec uses natural, but durable materials to optimize the function and beauty of the workstations. Granite, Slate, Marble, Butcher Block and Cherry work tops evoke the look and feel of quality. Specially designed Soapstone sinks add to the enduring character. Solid wood components are protected with durable, hi-tech finishes, once again blending the quality of (Yester)day's materials with the (Tec)hnology of today's innovations. Shown below is a Natural Cherry Working Pantry with Nautical Grid style doors and a brushed nickel 'Ship's Railing' cornice.
Renovating? I'll take two!
A YesterTec Kitchen can be composed of all work stations or just a couple work stations combined with more traditional built-ins. This approach makes kitchen work stations affordable for many markets.
Classic, Timeless Designs are versatile!
An even richer experience can be created if a home owner's antique pieces are integrated into a YesterTec kitchen. YesterTec's beautiful classic designs are not reproductions of any particular style, but are designed to blend with either more ornate antiques or more streamlined design found in contemporary pieces. Above, the corner piece is an antique cupboard and three YesterTec distressed Colonial Pine kitchen work stations were selected to complement it. The microwave, refrigerator, dishwasher and all the small appliances are concealed from view.
Kitchen Showroom is on the move!
YesterTec's Showroom, The Kitchen Works, features movable workstations that allow the homeowner to model many characteristics of their new kitchen prior to ordering it. Homeowners can touch and feel their kitchen before they buy it. This is almost impossible to do in traditional built-in kitchen design showrooms. Above, this Natural Cherry Work Table with English style legs, granite top and recessed drawer fronts combines with a Hutch top that features our Grid Style glass doors.
A Designer's Dream!
YesterTec's catalog features pre-designed and pre-priced components that allows designers to create an endless variety of pieces to satisfy their clients needs. The designer no longer needs to create furniture from scratch, YesterTec has produced a system of components that designers can depend on to produce well balanced, functional pieces. Designers don't have to experiment with their own untested, prototypical designs, they just need to make selections from an extensive palette of materials, textures, colors and sizes. In addition, prices are quickly generated with YesterTec's custom computer database system. This process speeds up the design time line, making it easier for the designer and client to stay focused on the design problems.
Key to our design services, our very fast custom CAD 3-D rendering software enables a customer to walk through their design while still in the design phase of the project.
Pack it up, move it out!
Independent pieces of furniture can be moved when a homeowner moves to a new home. The mobility of the kitchen workstations promotes the concept of a lifetime investment, a common practice in Europe, where most standard cabinetry is modular so that it can be moved several times during a homeowner's lifetime. The Award Winning* Complete Kitchen Armoire below can be used in a variety of rooms in the house and then can be moved to a new location at any time! It's Midnight Black color, Beveled cornice and Nautical Grid style doors with Taupe painted perforated aluminum vents have created a very contemporary look for this beach home's second floor family room.
Its Collectible! You just can't do it with normal cabinetry!
Each piece has a uniquely numbered brass 'YesterTec' plate, signifying that no two pieces are ever the same. The heirloom quality, innovative features and timeless look of the pieces can make YesterTec pieces 'collectible' as times goes on. In addition, people have started a 'collection' of YesterTec pieces by buying one piece at a time, something that is impossible to do with built in cabinets. This allows 'starter' home buyers or renovators to update their kitchens incrementally, instead of purchasing an entire kitchen all at once.
For Kitchens that need to be completely hidden and built-in, YesterTec's STEALTH KITCHEN MODULES may be the answer.
For a more comprehensive study of the concept of designing kitchens with kitchen workstations instead of cabinetry, please go to A DESIGNER'S GUIDE Part One: Kitchen Workstation Furniture.
So, If you would like to get started, please go to our How to Order page. And please call us if you have any questions at all, we look forward to talking to you!